Saturday Night Live has earned its reputation as being the best source for comedic relief from our country's presidential elections, and it is not disappointing by any means this election year.
Just when you thought they couldn't get any more spot-on in imitations than Tina Fey as former vice presidential candidate Sarah Palin, SNL bought you Larry David as Bernie Sanders (see: Bern Your Enthusiasm.)
And just when you thought you couldn't possibly find any humor in Donald Trump being taken seriously when running for president, it bought you the hilarious banter between Darrel Hammond and Beck Bennet in their respective imitations of Donald Trump and Jeb Bush.
SNL has done it again, and here are 13 of the most spot-on quotes from their imitation of the 2016 presidential election so far.
"Hello, I'm Jim Webb and it's about damn time I get to talk."- Alec Baldwin as former Democratic candidate Jim Webb
"For me, I'm an outsider Anderson. I'm the only candidate up here who's not a billionaire. I don't have a Super PAC, I don't even have a backpack. I carry my stuff around loose in my arms like a professor"- Larry David as Democratic candidate Bernie Sanders.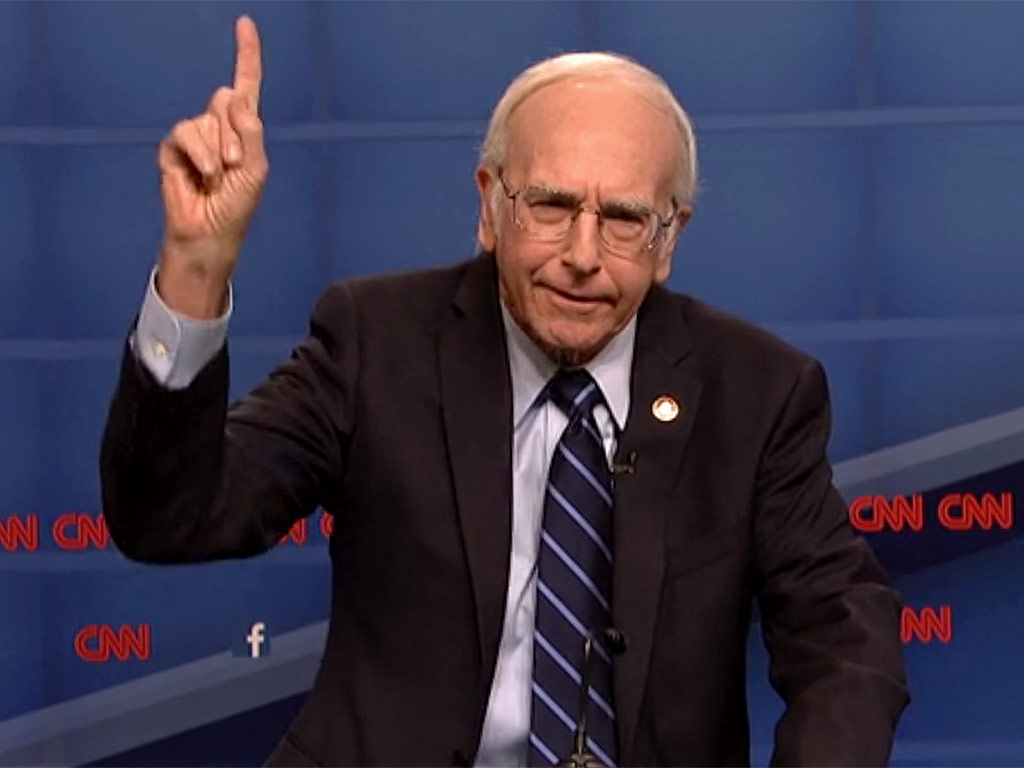 Kate McKinnon as Hillary Clinton: "I am running because I want to be a voice for women everywhere."
Darrell Hammon as Bill Clinton: "Did someone say women everywhere?"
"Yes Donald love women. He's always saying that woman is knockout, that woman is a ten, that woman used to be a ten but hey she's still a seven!" Cecily Strong as Melania Trump
"Introducing 'Abilify,' for people who think they can be president. Once taken, Abilify destroys the damaged part of the brain that say 'I'm going to president!' leading to an almost immediate return to reality. It's the only medication designed for 11 specific people."
-spoofing the low poll numbers for Republican candidates, specifically Rick Santorum, Mike Huckabee, Jim Gilmore and Bobby Jindal.
Cecily Strong as Megyn Kelly: "Isn't your tough stance on ebola really about the fact you might soon be candidate in 2016?"
Bobby Moynihan as former Republican candidate Chris Christie: "Megyn, that's a question for the American people. After 8 years of Barack Obama do they want more of the same? Or is America ready for a likable Kevin James type?"
Beck Bennet as Republican candidate Jeb Bush: "You're never going to be president, Donald"
Darrell Hammond as Republican candidate Donald Trump: "Yeah no kidding, none of us are."
"Jeb, you're a very nice man but you're basically a little girl. Folks this is true, I got hold of Jeb's birth certificate and full disclosure, his real name is Jebra"- Darrell Hammond as Donald Trump

"Wolf, I would like to answer that with a series of fear-mongering statements…Today in our great country one out of every three babies born are already in ISIS" –Bobby Moynihan as Chris Christie
"When I was mayor of Baltimore I did such a good job they made two TV shows about my city. Homicide and The Wire-" Taran Killam as former Democratic candidate Martin O'Malley