American music duo Twenty One Pilots (Tyler Joseph and Josh Dun) has taken the music scene by storm, and they're likely not Stressed Out about their reign ending anytime soon because they've recently been in the coveted position of being in the top ten of Billboard's Hot 100.
What can Twenty One Pilots attribute their success to? One reason, for sure, is their incredibly relatable lyrics that has everyone from tweens to adult listeners tuning in. We've done you a favor and compiled the 21 best Twenty One Pilots quotes from their music and beyond.
From Music
1.Somebody stole my car radio and now I just sit in silence.
Please stop thinking

I liked it better when my car had sound
Car Radio, Vessel
2.Living like a ghost, you walk by everyone you know.
You will hide from everyone, denying you need someone to exterminate your bones. Friend, please remove your hands from over your eyes for me
Friend, Please, Twenty One Pilots
3. I won't fall in love with fall in. I will try to avoid those eyes.
I'm not sure I want to give you tools that can destroy my heart
Air Catcher, Twenty One Pilots
4. He thinks that faith might be dead.
Nothing kills a man faster than his own head. He used to see dreams at night. But now, he's just watching the backs of his eyes
Trapdoor,Twenty One Pilots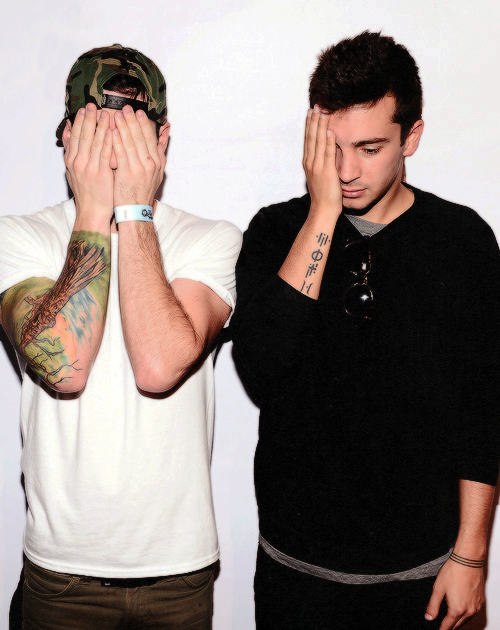 5. While you're doing fine, there's some people and I….
Who have a really tough time getting through this life
So excuse us while we sing to the sky
Migraine, Vessel
6. I'm just being dramatic
"In fact
I'm only at it again
As an addict with a pen"
Addict With a Pen, Twenty One Pilots
7. I'll pray that one day you see
The only difference between life and dying

Is one is trying, that's all we're called to do
Lovely, Vessel
8. Sometimes a certain smell will take me back to when I was young
how come I'm never able to identify where it's coming from,
I'd make a candle out of it if I ever found it
Stressed Out, Blurryface
9. I'm driving here I sit
…cursing my government,
For not using my taxes to fill holes with more cement
Tear In My Heart, Blurryface
10. This is not rap, this is not hip-hop
Just another attempt to make the voices stop
Rapping to prove nothing, just writing to say something
Heavydirtysoul, Blurryface
From Interviews
11. We had a lot of conversations with a lot of people who like listening to music or using music to get through tough times.
If anything, I think Josh and I learned when we were traveling the world during the last album cycle that everyone's the same, everyone feels the same issues
Tyler Joseph to Paper Magazine
12. Blurryface is this guy who represents everything I'm insecure about.
Honestly, we all know that we're insecure about certain things, but what we don't totally understand is how those insecurities affect our day-to-day life. So it's helped me give my insecurities a seat at the table, so I can stare across at him and give him a name and face and personality
Tyler Joseph to Paper Magazine
13. I guess when I first started writing music I really had no idea if anyone was ever going to hear…
what I was writing and almost no intention of people hearing it. So, it was kind of this journal. It was pretty unfiltered
Tyler Josephs to Radio.com.
14. Every step along the way is another success.
I think success can be measured in a lot of different ways and can mean a lot of different things. But I will say, at the end of the day, if this band ended tomorrow and the music was able to have some kind of any impact on a person or save a person's life then that's the real success
Josh Dun to Radio.com.

15. I don't know how to read music at all.
And that's why in college I wasn't able to go to school for music. Which was weird just because I have such a passion for it. But to get into these schools, you had to do an audition where you would read a piece, and they would give you a piece to read in order to get in. And they didn't seem to have any room for someone like me who was able to just hear it
Tyler Joseph to ColumbusAlive.com.
16. It was just from the first day that we hung out that it was like,
"I want to play music with this guy. I want to be a part of what he wants to do, and I believe that everything he's saying that matches up with what I believe can come true. It can happen"
Josh Dun to ColumbusAlive.com.
17. I feel a heavy responsibility…
…to continue not only creating or playing music, but also working on my own life, and trying to be a person that's worthy of somebody looking up to, I guess
Josh Dun in Reddit AMA.
18. There are times when Josh will get recognized and i won't…
…and he'll feel really bad for me, and I LOVE when Josh feels bad for me
Tyler Joseph in Reddit AMA.
19. We'll always stick to what we feel is right for us to do…
…and I don't think either of us have had a hard time saying, 'This is who I am, and I'm fine with it.'
Josh Dun to the Evening Standard.
20. What's so cool about music is that people can come up with a meaning for themselves related to their own lives in totally different ways.
But then what's exciting for us is playing shows and realising that every individual in that room probably has different feeling and thoughts for each song than the person next to them
Josh Dun to Spin or Bin Music.
21. But really what I do musically is sit down and say,
'I want to write this song.' I have an idea and a feel about where I want to go with it, and I find it inside of my programming
Tyler Joseph to The Huffington Post.