Johnny Manziel is arguably just as well-known for his party boy image as he is for being a professional football player.
Recently, Manziel's career has come into serious jeopardy after getting into an alleged altercation with his ex-girlfriend, Colleen Crowley where he reportedly threatened to kill them both.
Not to mention he had a very unimpressive and problem-laden rookie year that culminated in a lengthy rehab stint.
Johnny's continual involvement in incidents that run counter to those expectations undermines the hard work of his teammates and the reputation of our organization…His status with our team will be addressed when permitted by league rules. We will have no further comment at this time, the Cleveland Browns said in a statement.
Ouch.
Before Manziel's activity turned criminal, he was known for loving to get wild and have fun as the star quarterback of Texas A&M University and as the first freshman to ever win the prized Heisman Trophy.
How the mighty have fallen. Manziel's reputation for his arrogance manifested itself in the 2014 NFL Draft. Though Manziel was expected by some to be a top pick, Manziel was drafted at No. 22 overall.
"[The ESPN-ification of Johnny Football has created more of a caricature than an accurate public profile. Some teams might just want to avoid that altogether," noted masslive.com. 
In honor of being No. 22 draft pick, a sign that his career would likely be short-lived and riddled with problems, we've compiled the 22 most wild quotes from Johnny Manziel. 
"I don't think there's anything wrong with me going out and having a nightlife and having a social life"-  says the guy who frequently missed important team events for throwing parties
"I'm very about football and very about my job, which doesn't get reported or won't get reported, but I am going to enjoy my time off. That's I think what everybody else does, and that's what I should do."
" I'm going to get a chance to go and relax like everybody else in this locker room is. I don't think they're going to have to worry about me this week"– before a video of Manziel drinking and partying surfaced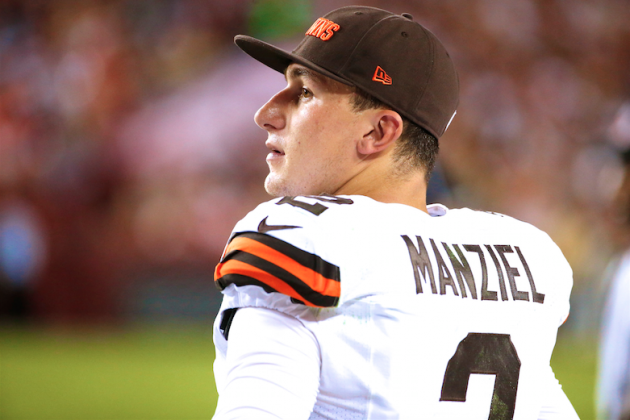 "Is it bad to admit on Twitter that I'm a Belieber?" 
"I guess I feel like Justin Bieber or something.. Kid can't even go out and kick a can without upsetting somebody."
"Nothing illegal about being 18+ in a casino and winning money…KEEP HATING!"
"I owe private apologies to a lot of people that I disappointed."
"I just overslept and missed a meeting. I absolutely lived up to it. There was no excuse for not having my phone charged or having an alarm set."
"I've just been on a hectic schedule and overslept."
"Twitter is what it is, learned a lot from it, probably hindered myself at times."
"My offseason, all the stuff that's gone on, will have no effect on me. Last year still going to games, still having a lot of fun, didn't really factor in, people didn't care."
"I'm just in a different spotlight. No matter what happens I'm going to adapt but I'm not going to change. I'm still the same person that I was."
"The Heisman attention has definitely been a little bit of a surprise. It's been out of my hands. It's something I'm not focused on. I'm focused on the season and trying to win as many games as possible."
"The thing that's caught me off guard is going to dinner and people asking me for autographs or to take a picture. People coming to my house asking for autographs – that's something I really haven't grasped the whole entirety of yet."
"I'm tired of not winning a championship. I consider myself a winner and I hate losing."
"Losing game is not something that sits well and that I can sleep well at night knowing we went out and got our ass kicked." 
"If teams are really going to play me and say I can't sick back there and throw and they want me to man-up and blitz and all these things, please, bring it on." 
"People that said [the decision to turn pro] was easy, they don't know what the hell they're talking about. They don't know the love and the passion I have for the school." 
"For me, the NFL is the thing that's always been, kind of somewhat like the Heisman, it's been a dream as a kid to be able to have an opportunity to even be talked about being able to play in the NFL."
"I don't see myself as Johnny Football." 
"That is the way that I am looking at it right now. I did my job as a far as bridging the gaps in-between while Josh was out."
"It is a crazy season. It is a crazy league. I will be ready when that time comes, if it does."