Andy Dwyer quotes are funny in any situation. Probably because Andy himself was always oblivious to his situation.
Andy Dwyer is one of the funniest characters in TV history. Kind at heart but very dumb, Andy was the straw that blew bubbles in the bottom of the drink that was the Pawnee Parks and Recreation department.
Here's a look at Pawnee's resident FBI agent/rock star/ninja, Andy Dwyer, and some of his best quotes from Parks and Recreation.
"Anything is a toy if you play with it."
"I have no idea what I'm doing but I know I do it really, really well."
"The show must go wrong!"
"I'm not crying. I'm allergic to jerks!"
"That is the coolest sentence I have ever heard anybody talk."
"Windows are the eyes to the house."
"I tried to make ramen in the coffee pot and I broke everything."
"I know what things are."
"For the last time, Ron, it's Princess Rainbow Sparkle."
"Is that a goose that just flew by the window? Oh, it's a plastic bag."
"Everything hurts. Running is impossible."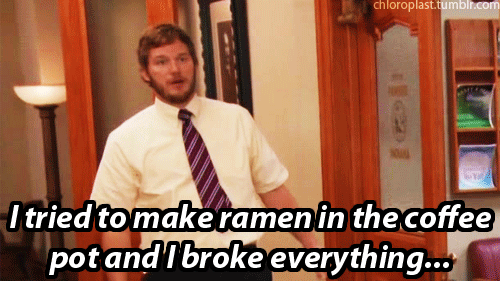 "A game is the foot!"
"When I get bummed out, I take my shirt off because the bad feelings make me feel sweaty."
"I'm allergic to sushi. Every time I eat more than 80 pieces, I throw up."
"It's fine. It's just that life is pointless and nothing matters and I'm always tired."
"Just remember, every time you look up at the moon, I too will be looking at the moon. Not the same moon, obviously. That's impossible."
RELATED: Best Deadpool Quotes | Quotes About Strength